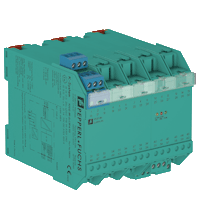 KFD2-BR-Ex1.3PA.93, Segment Coupler 1
[ Backorder Available, Ships in 3+ Weeks ]
---
---
Segment Coupler 1, KFD2-BR-Ex1.3PA.93
Output: 12.6 ... 13.4 V/100 mA
Couples PROFIBUS PA devices transparently to PROFIBUS DP
Intrinsically safe, Ex ia (FISCO or Entity)
Installation in Zone 2/Class I, Div. 2
Fixed, high-availability terminator
For all non-redundant masters
Cyclic/acyclic data exchange
The Segment Coupler 1 (SK1) is an all-in-one gateway and fieldbus power supply for connecting PROFIBUS PA to PROFIBUS DP transparently. The Segment Coupler powers a single PROFIBUS PA segment adapting current and voltage.
The output is rated intrinsically safe Ex ia IIC according to FISCO and Entity. The complete segment can be installed intrinsically safe.
Communication is transparent between DP and PA. The gateway of the Segment Coupler makes each PA device appear as if it was connected to DP: This relates to addressing, cyclic/acyclic data exchange, and the transfer rate. Segment design is clear and easy to understand without subnetworks. The gateway itself is confguration-free. All in all, these features significantly reduce engineering work.
SK1 supports any PROFIBUS DP master at a fixed transfer rate of 93.75 kbps.